ALLTEST Covid-19 Coronavirus IgG Antibody Rapid Test Kits How To Order
ALLTEST Covid 19 Coronavirus IgG antibody rapid test kit box of 40 test kits
Price £119.00 plus VAT per box of 40 test kits
To place an order please contact us
UK delivery is £7.95 per order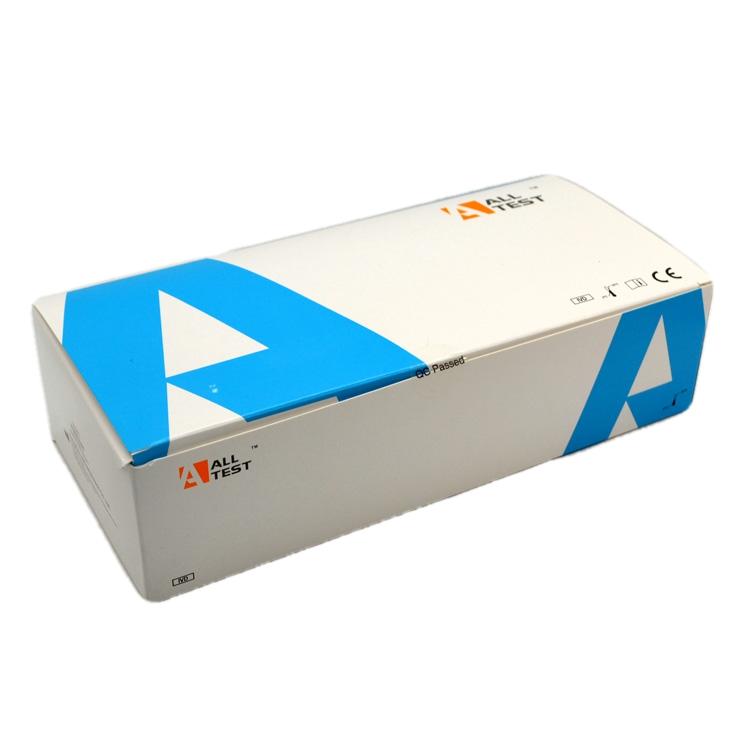 ALLTEST professional Covid-19 antibody test kits in stock now, and now available for next working day UK delivery
For Medical Professionals ONLY
To order please contact our trade and NHS team.
You will be required to prove that you are a medical professional, to purchase this professional medical test kit
This a professional medical diagnostic test kit and is for medical use only.
It is not a home test kit.
Covid-19 antibody test kits price £119.00 per box of 40 test kits plus delivery
ALLTEST Covid-19 IgG antibody rapid test kit pack contents
ALLTEST 40 Covid-19 antibody test cassettes
40 droppers
1 data sheet IFU,
3 buffer solution sufficient to run 40 whole blood test cassettes.
No additional buffer solutions are available
How should the ALLTEST Covid-19
Coronavirus antibody test kits be used?
The intended use of this rapid test kit is in population screening to establish if previous exposure (now asymptomatic) to SARs COV2 Covid-19 Virus has occurred.
This Coronavirus test kit allows rapid, low cost per screen, mass testing for antibodies to Covid-19 allowing identification of patients or workers who have had the infection.
Typical scenarios for testing with INCPG-402 test kit include ~ "was it a cold or flu or have I had Covid-19?
For professional end use only
These professional Corona antibody test kits are in bulk packs containing 40 test kits and 3 buffer solutions.
They are not home or self-test kits and can not be split and resold as such
40 x ALLTEST INCPG-402 Rapid 2019-nCov SARS-COV2 (Covid 19) IgG on-site Coronavirus test kit.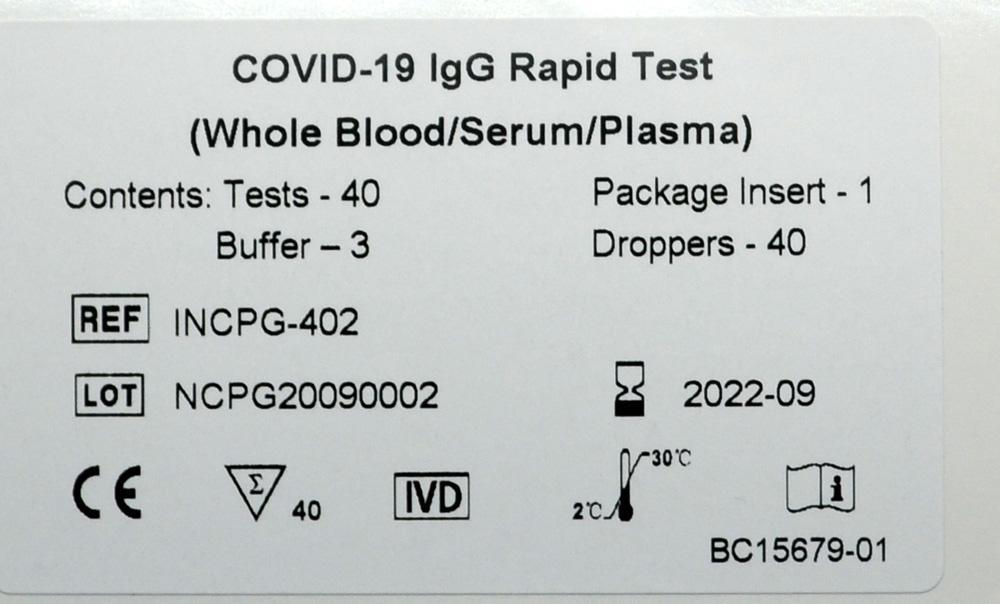 ALLTEST Rapid Covid-19 IgG whole blood/serum/plasma test cassette
Qualitative membrane-based immunoassay for the detection of IgG antibodies to 2019-nCoV
For professional in vitro diagnostic use only
This is a professional only medical diagnostic Corona virus Covid-19 antibody test kit intended for use by healthcare professionals
Storage at 2-30*C (accelerated stability studies suggest 24-month expiry stability.
Compared to commercial PCR, INCPG-402 offers a relative sensitivity of 96.9% for IgG The relative specificity is 96.3% for IgG
The overall combined accuracy of the Coronavirus test is 96.4% for IgG detection.
No cross-reactivity with Influenza A, B, RSV, or Adenovirus.
Haematocrit flex testing good between 25% and 65% haematocrit levels.
Suitable for capillary blood, venous fresh blood, EDTA-K2, Heparin sodium, Citrate sodium, and oxalate potassium anticoagulant samples.
Results can be read at 10 minutes
CE certified IVDD Chinese government export whitelisted product
Limitations of the Coronavirus Covid 19 IgG rapid test kits
The ALLTEST INCPG-402 screens for IgG antibodies specifically produced against Covid-19 and NOT virus antigenic material.
In early infections anti-SAR COV2 antibody concentrations can be below the detectable level, it is therefore not recommended to use this test as part of the early diagnosis of the disease.
A negative Covid-19 antibody test result does NOT exclude Covid-19 infection.
Studies suggest IgG antibodies are detectable 4-10 days after the onset of clinical symptoms.
No long term studies on Covid-19 antibodies are yet available on how long these antibodies remain detectable, or on their ability to prevent further infection with the virus.
ALLTEST Coronavirus antibody test kit reviews
Recommend 5*
Chai Sanapala on Apr 06, 2020
Has worked on all staff who have been confirmed positive on PCR swabs. Recommend to check if a healthcare worker has been exposed to COVID already.